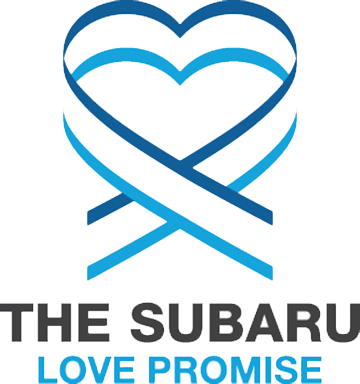 What is the Subaru Love Promise?
Subaru and our retailers believe in making the world a better place and the Subaru Love Promise is our vision of respecting all people. This is our commitment to show love and respect to our customers and to work to make a positive impact in the world.
How is Peninsula Subaru dedicated locally to the Love Promise?
Our Love Promise can be seen in various partnerships with local charities like Children's Home Society of Key Center and the Boys and Girls club of Gig Harbor. We're grateful for the opportunity, not only to be a part of our community, but to serve it as well. Creating Raving Fans.
Peninsula Subaru Love Garden
Boys and Girls Club of Gig Harbor
Children Home Society of Washington - Key Center
South Kitsap Helpline Food Bank
Love Promise Stories from Peninsula Subaru
Subaru and Peninsula Subaru believe in making a positive impact on the communities in which we live and work. We uphold that belief through our Love Promise Community Commitment. Every month, we select inspiring stories from customers and partners from around our area who strive to support our collective commitment and feature them here
Paving The Way - Gina C
Children's Home Society of Washington (CHSW) is humbled to be a grant recipient for the Peninsula Auto Group and Subaru of America's Share the Love event. For more than 125 years, CHSW's has developed healthy children, created strong families, built engaged communities, and spoken and advocated for children. Peninsula Auto Group has been a critical partner over the years in making that mission a reality every day. With this $50,000 contribution, CHSW is making immediate, critical, positive impact in the community at a time when support is needed most. CHSW has delivered a record amount of rent and utility assistance to prevent homelessness and keep families connected, a crucial necessity in this new, online world – especially in rural communities where connectivity is challenging. CHSW has helped families navigate complex systems as parents were suddenly laid off, schooling went virtual, and public spaces closed. CHSW has engaged families through case management and social-emotional services, providing support for challenging youth behaviors, mindfulness activities for students, and kinships groups that keep families from entering the foster care system. Additionally, Peninsula Auto Group truly went above and beyond with the donation of a van CHSW uses to deliver food and school supplies for those without transportation, and goodie bags to brighten a particularly hard year. Due to partners like Peninsula Auto Group, those served by CHSW have enhanced academic performance and attendance, family connectivity, joy, and hope. Thank you, Peninsula Auto Group for helping to pave the road for family success!
---
Perfection.... - Tina R
We already owned an older Subaru. We actually were just looking at the newer ones to see how they have changed. My husband and I pulled into the Peninsula Subaru lot. Once we got out a salesman approached. The first thing I thought was "oh great, her come some egotistical overzealous salesman". But to my great surprise was a nice man. He introduced himself as Amir. He asked what we were looking for and we told him just looking. He did not give us attitude but instead was eager to show us some ideas. The first one I sat in was nice but was not my perfect fit. Another salesman came over. I wish I could remember his name. They showed us another Subaru. I sat behind the wheel and was checking out the dash. Amir asked if I wanted to test drive it. Well, how could you say no. So he got the keys and my husband, Amir and I in masks got in the car. While I test drove the car the men talked about Subaru and the options in this particular car. Once we got back to the lot he asked how I liked it. I was totally loving this car. My husband saw how much I liked it and said "if you want it, let's get it". Well of course I wanted it. First off it's perfect, second it's orange, my favorite color. We went inside and Amir offered us something to drink and even snacks. We filled out some paperwork and then headed over to the other building to finalize the deal. Everyone there was great as well. Let's just say in about an hour and a half I was standing outside my new car! We never intended to buy one that day BUT everyone at Peninsula Subaru made it so pleasant and never pressured us to buy. It was a breeze to deal with them. When I got the call that my license plates came in I went there. In the pouring rain they put the plates on for me and also gave me a Subaru mascot stuffed dog. I love my Crosstrek and will absolutely deal with Peninsula Subaru again in the future. Thank you for having hard working down to Earth people work for you! Makes me proud to own a Subaru!!
---
A Vehicle For Change - Gina C
Children's Home Society of Washington is extremely grateful for our long-standing, strong partnership with Peninsula Subaru and Subaru of America. Peninsula Subaru and Subaru of America continue to emphasize their commitment to CHSW's mission and the Key Peninsula community with a $50,000 donation from the Share the Love event! With the support from this event, CHSW has increased our outreach in response to the COVID-19 pandemic so families can have their basic needs met in order to stabilize while in crisis. This assistance allows families in need to receive ongoing support in order to remain on track to reach their goals, regardless of potential setbacks from the pandemic. Additionally, CHSW has expanded our rent and utility assistance to keep families housed during the challenging time, moved our youth programs online to address the elevated anxiety and depression of students with our social-emotional development services, and broadened our system navigation of our case management to get families healthcare, unemployment, and emergent cash assistance programs. We also went mobile; the van Peninsula Subaru provided is being used to ensure that items kids could not retrieve from their cubbies at school were delivered, straight to their door and contact free. As the needs of our community change and grow, CHSW does too. Thank you Peninsula Subaru and Subaru of America for sharing our mission of developing healthy children, creating strong families, building engaged communities, and speaking and advocating for children!
---
Peninsula Subaru Makes a Lasting Impression - Katie J
On August 5, 2019, Peninsula Subaru delivered blankets to patients receiving cancer treatment at St. Anthony's Hospital in Gig Harbor. Each year since 2016, Peninsula Subaru has partnered with the Leukemia & Lymphoma Society to deliver warm, comfortable blankets to cancer patients at St. Anthony's and Harrison Medical Center, to help relieve some of the discomfort caused by cancer treatment. At St. Anthony's, we met with two patients who were receiving treatment as we arrived and were fortunate enough to hear their stories. Jerry had just finished up receiving his first treatment and was thankful to receive the blanket from Peninsula Subaru and shared he has a long road ahead with his treatment. The other patient was named Mary-Catherine, a previous customer of Peninsula Subaru, and was happy to share that Cory sold her a Subaru Forrester a few years ago. Mary-Catherine was joined by her newly-wed husband Russ to support her while she was receiving treatment. The two were excited to share with us that they recently got married and that they shared grandchildren together BEFORE they tied the knot and were not romantically linked at the time their grandchildren were born. Mary-Catherine's daughter married Russ' son well before they started dating. Years after Russ' wife sadly passed away, Mary-Catherine and Russ found love with one another and decided to make it official this past May. We are sending Mary-Catherine and Jerry all the positivity possible while they are in treatment. Thank you to Peninsula Subaru for making a lasting impression upon Mary-Catherine, and the Gig harbor/Bremerton community by helping fund life-saving research and patient programs and services for cancer patients and their families.
---
Years of Impact - Gina C
Children's Home Society of Washington has been honored to partner with Peninsula Subaru for over 10 years! This year, Peninsula Subaru and Subaru of America's Share the Love event donated a whopping $43,638.76 to Children's Home Society of Washington/ Key Peninsula Family Resource Center. This overwhelming generosity allows Key Peninsula families to access critical resources to stabilize in crisis and strengthen their capacities with preventative and educational programs. In 2018, their support helped serve over 1,300 people! These services include empowerment and public speaking programs for elementary school girls, mentoring programs that forge strong relationships and role modeling between elementary and middle/high school students, and prevents families from electricity disconnection and homelessness. Peninsula Subaru also provides a van for transporting youth on the Key Peninsula so the lack of public transportation in a rural area is not what stops a child from getting the connections they need. Peninsula Subaru provides a foundation for children and families to bolster their capacities to be closer, stronger, and be part of healthy communities. Children's Home Society of Washington is deeply grateful for this support!
---
Peninsula Subaru - bringing families together - Emma C
In 2018 the Boys & Girls Clubs saw an increase in families and members where English is spoken as a second language. Instead of that becoming a barrier to families joining the Club it enriched the culture of our atmosphere and programs. With the ongoing investment from Peninsula Auto Group, we have staffs that are bilingual, who begun teaching all of our member's new languages, cooking them traditional dishes from other countries, sharing dances, and even creating a weekly program called, "Culture Club." Over the summer we had the opportunity to partner with Peninsula School District's English Language Learners Program to offer our Summer Boost program. To prevent summer slide in their education. Thank you Peninsula Subaru.
---
Children's Home Society of Washington - Gina C
For over a decade Peninsula Subaru has enthusiastically supported Children's Home Society of Washington. Peninsula Subaru has invested almost $300,000 to support Key Peninsula children with after-school programs that encourage development, mentoring programs that build leadership for youth, and emergency assistance so crises are stabilized. Peninsula Subaru also provides a van so the barrier of transportation in a rural area is not what stops a child from getting the connections they need. Peninsula Subaru provides a foundation for families to build their capacities to be closer, stronger, and form solid communities. Children's Home Society is grateful for this partnership!
---
Peninsula Subaru Loves to Care for Cancer Patients - Katie J
On July 16th, Peninsula Subaru partnered with the Leukemia & Lymphoma Society to deliver over 130 blankets and arts and crafts kits to cancer patients and kids experiencing cancer at St. Anthony Hospital in Gig Harbor. The Leukemia & Lymphoma Society exists to find cures for cancer and improve the quality of life of cancer patients and their families and Subaru helps LLS by donating critical research dollars. The associates from Peninsula Subaru were able to talk with cancer patients one-on-one and hand deliver their blankets and messages of hope. One patient shared that this was a wonderful gift as today was her last day of chemo treatment! Several of the patients shared their stories and were so thankful to Peninsula Subaru for their generosity. St. Anthony Hospital greatly appreciates Peninsula Subaru for their generosity and in-depth involvement with the Kitsap County community. Thank you again for your care and compassion for the patients at St. Anthony Hospital; and for helping the Leukemia & Lymphoma Society fund local life-saving research to beat cancer and provide programs and services for patients in Kitsap County and beyond. Pictured: Gary Stallman and Melaina Miller of Peninsula Subaru
---
Boys & Girls Clubs because of you - Emma C
With the generosity of Peninsula Subaru and John Dionas, we are serving youth, ages 6-18, who need us most. The majority of young people who participate in the Boys & Girls Clubs of South Puget Soundprograms come from challenging circumstances and have few opportunities to develop positive relationships with adults or participate in after-school programs. Our programs are affordable and help kids gain the confidence they need to be successful andevenprovide supporttotheir family. The Cheney Family Branch in Gig Harbor was able to assist such a family this past year; a family of 8 with 3 of the children attending the Club, were living in a shelter. Each day the kids ride the bus to the Club where they are offered a healthy snack and a warm meal, provided homework assistance, and a space to play. They're connected to their friends and our staff. Their faces light up when they are at the Club. Through our partnership with the school district we are able to have them ride the bus in the evening to take them back to their family, back at the shelter. This family was offeredfinancial aid to attend the Club for free. The financial aid was funded by the generosity of Peninsula Subaru and the Dionas family. This opportunity provided the family a sense of value, development of social skills and a place to build their great future.
---
Van Donation - Melaina M
On Friday December 15th, Peninsula Subaru donated a brand-new van to the Gig Harbor Peninsula FISH Food Bank. To give you a little background, the Gig Harbor Peninsula FISH Food Bank serves individuals and families all over the Peninsula. Last year the Food Bank was able to feed 3,756 families totaling to 8,104 individuals. Also in 2016, they were able to give $101,816.78 to help those in need with their expenses. With over 240 volunteers, their organization is incredibly busy and provides amazing services to people in our community. Their mission statement "Neighbor Helping Neighbor" could not be a more accurate depiction of the Food Bank's community impact. Upon delivering a donation check, Peninsula Subaru's owner John Dionas was able to see the Food Bank's needs firsthand. During this visit he spoke with the Food Bank's President, Ron Coen, and their great need for a van came to light. Up until they received the new van, they were using volunteers' trucks/cars to transport people and goods as well as a horse trailer for donated food. Realizing the great need for transportation, John Dionas decided to purchase a brand-new van and donate it to the Food Bank. The van has since been purchased and delivered to the Food Bank. The delivery was a very emotionally rewarding experience for John Dionas, his employees and especially the Food Bank volunteers. The van is a gift that they will be able to enjoy for years to come and provide them with a more efficient, safe, and comfortable means of transportation for individuals, goods, and services. The addition of the 8-passenger van will greatly impact the Food Bank, the thousands of people who rely on them and our community. The van will also bring awareness within our community of their organization and the many services that they provide. In the words of Ron Coen, "The generosity of Peninsula Subaru is noticed throughout the whole community and it is making a real difference in the support that we (the Food Bank) are receiving."
---
Peninsula Subaru Delivers Blankets to Patients - Anne G
On Thursday, July 27th, a team from Peninsula Subaru joined Leukemia & Lymphoma staff member Kelli Evers to delivery 80 soft, navy blue "Subaru Loves to Care" lap blankets to the cancer center at Harrison Medical Center in Bremerton. Peninsula Subaru also provided 20 craft kids for kids who may need something to keep them entertained while visiting family or friends receiving treatment. During the visit, the team was able to distribute blankets directly to approximately 15 patients who were really grateful for the gift, with the rest of the blankets being distributed in the weeks to come.
---
Subaru and NWF Love the Earth! - Elizabeth M
The Evergreen Elementary School Community is restoring 2 1/2 acres of overgrown, neglected land. The property was covered with blackberries and Scott's Bloom, both invasive weeds. Staff, students and community members have put in long, exhausting hours in our commitment to return this land to it's natural state. This project is also a learning lab for our students. We are building animal habitat as well as instilling respect and love for nature in our students. We send a big "Thank you" to Peninsula Subaru for believing in our dream.
---
Subaru & KiDiMu: Launching a Lifetime of Discovery - Deborah B
Thank you, Subaru, from your friends at the Kids Discovery Museum (KiDiMu) in Bainbridge Island, Washington! Look what we built today with the funding you provided for our Daily Educational Programming (DEP). This activity helped us learn about spatial planning and classical mechanics. We learned how to work as a team and take turns. We developed fine motor skills, social skills, and creative problem-solving skills. Our imaginations and creativity took the lead. And that was just today! Thanks to your generosity, we get to learn stuff like this everyday. We are going to be so ready for Kindergarten when we start, all thanks to you! Together, Subaru and KiDiMu are helping children develop the skills they need to succeed in school. Research shows that supportive relationships and positive learning experiences are critical to healthy brain development for children from birth to five years (Center on the Developing Child, 2007; developing child.harvard.edu.) Every time children sit down with a museum docent to build a sled out of Popsicle sticks or match letters with their sounds, their brains becomes sharper and stronger and more active. They discover that learning is fun and exciting, silly and surprising, and that there is no end to it. For KiDiMu to be able to provide these opportunities for growth on a daily basis is a gift Subaru has given to everyone – the children, their families and their communities. And, it lasts a lifetime.
---
2016, A Great Year of Giving - Emma C
Dear Friends at Peninsula Auto Group: Your total giving in 2016 of $13,000.00 helped us serve more than 1,450 youth every day. Club members across our three-county footprint (Pierce, Kitsap and Mason Counties) improved their academic skills, developed character and leadership abilities, and adopted healthy lifestyles – and they had a blast doing it! Not only that, your support also helped provide 419,663 healthy snacks and meals. And, 26 college-bound Club members received $73,400 in scholarships to help them achieve their dreams. Our professional staff members provided direct support, including encouragement, mentorship, and serving as role models for our Club kids who may not experience positive and healthy adult relationships elsewhere in their young lives. What an honor, and an awesome responsibility, to serve youth in your community who need us most. Thank you for giving us the tools we need to carry out this important work. Thank you for helping us build great futures for our kids & teens. Thank you to you and all the Dionas family and employees.
---
Service above Sales - A very satisfied Subaru owner - Connor L
"I had the pleasure of purchasing a Certified Pre Owned Legacy from your outstanding team. I wanted to take a few minutes to express my excitement for my new vehicle, but also to recognize the best-level customer service afforded me by Garrett Cryder, Sal Gatto & Meghan Davis. I'll admit that I had not done extensive research on Subarus, so Meghan took it upon herself to drive a Legacy to the Bremerton branch. We got to talking in the lobby & she asked me to look at the car & I was impressed. What particularly impressed me was her willingness to engage me in conversation, discover my preferences & challenge me to test a Subaru (Garrett). He engaged me in conversation, found out more about what I was looking for, & made some personal connections around career, family & cars. He put many of my concerns to ease & willingly answered all of my questions. I was able to email, text, & call him & he didn't shy away from one question or objection. This continued during the negotiation process. Never did I feel belittled, or disengaged...Steve, you have an excellent front team. It speaks volumes about your company & your culture. I know we're all in the business of making money, but I know you're committed to profits the right way. From my experience, I'm confident that your team puts service above sales–& that's something to be proud of. I'm thrilled to be a Subaru owner, but I'm also thrilled to be your team's advocate in the Bremerton community." *This Love Promise is paraphrased.*
---
For the Kids - Jud M
Children's Home Society of Washington's Key Peninsula Family Resource Center was so excited to have John Dionas and his family stop by the annual holiday party for the Key Peninsula youth. The children were overjoyed to receive Peninsula Subaru gifts and to get together for a night of skating, food and friends made possible by the Peninsula Subaru team and Children's Home Society of Washington! Thank you!
---
Happy Owners! - Bob R
Our 2016 Outback you sold us was outstanding on our 5 week road trip. Covered Oregon, CA, Nevada, AZ, Utah, WY, Idaho, WA, "Grand Canyon," Sedona, Scottsdale, in AZ, David Walleys – Hot Springs, Genoa NV. Averaged 33.7 MPG (Highest was on Desert Flats 35.2 MPG). Cheapest gas was in Scottsdale at $1.91 gal Costco. Best vehicle we have ever bought. You may want to put in Subaru's Newsletter. PS Big Bear Lake was our best stay. 1 week time shares for all places we stayed. Thank you!!! Happy Owners, Bob & Mary Lou
---
Subaru Loves Pets - KHS Partnership - Sarah M
I just wanted to thank Peninsula Subaru for having KHS have our info booth/food drive at your dealership on Saturday - it was a success! Not only did we get some nice supplies donated, and also monetary donations, the info booth also resulted in at least one adoption! One of your customers was at the dealership on Saturday having her car serviced, and saw the info booth and started talking to our volunteer, and as a resulted ended up coming to the shelter that afternoon to adopt a cat and it was one of our long-term, hard to place kitties who was especially in need of a loving home. Thank you again, and for all your support of KHS!
---
Boys & Girls Club of South Puget Sound Partnership - Emma C
The Boys & Girls Clubs of South Puget Sound would like to thank Peninsula Auto Group and the participants of the 14th Kids Classic Annual Golf Tournament, having raised close to $70,000 for the Cheney Family Boys & Girls Club, since it opened its doors in 2009; since it's inception. The Club serves on average of 130 youth each day in Gig Harbor, and was the proud recipient of a 15 passenger van from Peninsula Subaru. The van enabled teens to participate this past summer in a flag football tournament with other Boys & Girls Clubs in the region, as well as provide transportation for Club members to support local community service projects.
---
A Partnership Over a Decade in the Making! - Jud M
Peninsula Auto Group has generously supported Children's Home Society of Washington through The Kids Classic Annual Golf Tournament since 2003 and through the Share the Love event since 2015. These events have raised over $150,000 that has been used to support elementary after-school programs such as Little Toasters and Little Buddies, provided snacks and gift cards for children and their families, and provided emergency utility assistance for Key Peninsula families. Peninsula Auto Group has also donated a van that has been used since 2006 to transport youth from elementary schools to the Vaughn Civic Center so they can be included and supported in Little Buddies. With Peninsula Auto Group's support, Key Peninsula families can stay together and be healthy together because strong healthy families are the key creating healthy adults and strong communities.
---
Peninsula Subaru delivers warmth to St. Anthony's - Josh B
As part of Subaru's Love to Care program in June, Subaru partnered with the Leukemia and Lymphoma Society to deliver blankets to patients at St. Anthony's Hospital in Gig Harbor! The intent was to deliver some warmth and love to patients in need. A total of 100 custom blankets were delivered, along with care cards that were personally written by Peninsula Subaru customers and staff. Peninsula Subaru strives to make the lives of residents on the Peninsula better, and this is just another way that they make such a huge difference to so many people.
---
A Positive Experience - Karren L
I took my new-to-me Forester (named Sparky) to Peninsula Subaru, about a 90 min drive, for its 60K service. Everyone I talked to there was friendly and knowledgeable. They spoke with me as though I were a valued customer, even though it was my first visit there. They were organized and efficient and their teamwork was impressive. They explained everything that would be done, and they offered me a choice of several different brand-new Subarus to drive for the day. When they brought the loaner car to me, they took time to explain all the features and make sure I was comfortable driving the car. When I returned to pick up Sparky, they explained, in detail, all the work that had been done and allayed my concerns over taking it on a long road trip. They invited me to join in their anniversary celebration - a huge event that was going on in their parking lot. I felt confidence in my car, and I was treated like an adult. Thanks, Peninsula Subaru. You changed my perception of the Subaru company.
---
Doing Our Part to Save the Butterflies - Peninsula S
Did you know the monarch population in the United States has declined by more than 90 percent in recent years? For the month of April, Peninsula Subaru is partnering with the National Wildlife Foundation for the Butterfly Heroes Program. Butterfly Heroes seeks to bring awareness to the declining population and connect our community of gardeners and kids, families, and schools alike to help the monarchs and other pollinators. Creating monarch and pollinator habitat is a wonderful opportunity for observing one of nature's most miraculous occurrences. The unique transformation the monarch butterfly undergoes during its life cycle from egg, caterpillar (larva), chrysalis to the delicate yet resilient butterfly is wonderfully intriguing for students and teachers alike. Peninsula Subaru will have a butterfly habitat planter on site and be giving away seed kits. Stop in and check it out. We also encourage you to be a butterfly hero and grow your own butterfly habitat at home. It's a great activity for the kids or grand kids!
---
2015 Share the Love Event - Madeline S
For the second year in a row, Peninsula Subaru has selected the Children's Home Society of Washington as our local charity for the Subaru Share the Love Event. Their mission is to develop healthy children, create strong families, build engaged communities, and speak and advocate for children. Peninsula Subaru first partnered up with the Children's home Society of Washington in 2003, and continue to support them to this day. We are dedicated to supporting this organization and everything they represent. Peninsula Subaru Owner, John Dionas says, "We need to focus on children because they are the future of this world." We are honored to support them through the 2015 Share the Love Event.
---
Helping Homeless Animals - Tom W
Peninsula Subaru has demonstrated its commitment to saving homeless animals by partnering with Kitsap Humane Society for the past several years. From hosting pet adoption events to sponsoring our Animal Krackers gala, Peninsula Subaru has helped hundreds of animals find their forever homes. Recently, the company's sponsorship of our Mega Match-a-thon was key to our success in adopting out over 200 animals in three days! And as presenting sponsor of Animal Krackers, Peninsula Subaru was at the heart of our efforts to raise $210,000 to support our progressive life-saving programs. At KHS, we are enormously grateful that Peninsula is so dedicated to making our community a better place for both humans and our furry friends.
---